10 Things a Florida newcomer should know...
Â
1. There is no car inspection needed... and the first time you register your car is going to be expensive,but you can choose from over 100 different license plates!
http://www.dmvflorida.org
Â
Â
Â
2. Â Tires ware quickly... Not sure if it the heat, sun or shells in the roads..
http://local.tiresplus.com
Â
Â
3. Â When ordering pizza you need to specify "a cheese pizza" and "garlic knots"...its not just a pie and knots...
http://www.michelangelorestaurantpizzeria.com
Â
4. Â If you have school aged children you shoud know about Florida Choice. There many options of where your child goes to to school outside of where your home is zoned.
http://www.fldoe.org

Â
5. Each county is a school district. Check the scores of the actual school you are thinking of, not just the district.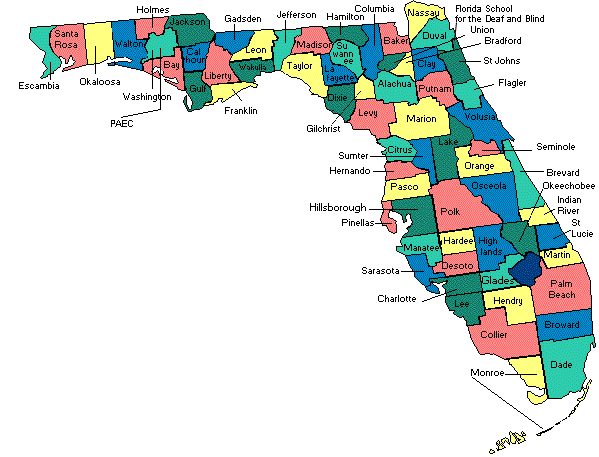 http://www.schooldigger.com
6. Â Be sure to reduce your speed (20MPH) when driving through a school zone. You will get pulled over and the fine can be over $500!!
http://www.dmvflorida.org
7. Bright Futures Scolarships are funded by the Florida Lottery and available to all Florida resident HS Students. It rewards acedemic achievement and community service.
http://www.floridastudentfinancialaid.org
Â
Â
8. CDD, What is it? Â Â Â Â Â Â Â Â Â Â Â Â Â Â Â Â Â Â Â Â Â Â Â Â Â Â Â Â
A Community Development District is a type ofgovernment entity that provides infrastructure such as roads, utilities, and amenities to specific planned unit development (PUD).
Most planned communities have a CDD, which means theynormally have desirable amenities, possibly activity staff and community sponsored events.
A CDD allows the developer to finance the costs with a CDD bond through tax-free municipal bonds. This is basically a loan. That "loan" is repaid by the homeowners in the community, with each property charged an annual amount. The CDD shows as an assessment on the homeowners' tax bill each year and is collected by the county tax collector. If you have a mortgage, this is amortized into your payment.
Â
9. HOA, What is it?
Each Homeowners Association can vary a bit based on the community or subdivision, but an HOA fee is basically a predetermined fee that each homeowner in the community pays monthly, quarterly, or annually to help maintain the community. In an HOA, a homeowner is also subject to certain Covenants, Conditions, and Restrictions (CC&Rs), which outline what a homeowner may or may not do with the property.
If the home you're looking at is in a community that has both CDD and HOA: The Homeowners Association deals with things like the overall condition of the neighborhoods and ensures the covenants and restrictions are adhered to regarding the appearance of the homes in the community.
If your subdivision has only a HOA: In this case, the HOA is there to make sure assets like the pool, playgrounds, and common areas are well maintained, in addition to making sure the CC&Rs are upheld by the residents.
Keep in mind that homeowners pay CDD and/or Homeowners Association fees in addition to whatever mortgage payment they may have, so it's important to factor them in (i.e., to find out exactly how what they are and how much they cost) when calculating "how much house" you can afford. Despite the extra expense, these types of neighborhoods can be very desirable due to the lifestyle they offer, but they might not be a good fit for everyone. Make sure to ask questions about CDD and HOA fees up front before making a buying decision.
Â
10. Homestead Exemption-Â FLorida residents who hold title to a home in Florida and use the home as their permanent residence may establish their residence as a homestead. Floridians who homestead their residence recieve a homestead exemption, which reduces the amount of property taxes owed.Â
http://dor.myflorida.com